Please see sections, on left-hand menu, for pages from the 2013 event.
RESULTS -> 100 Mile Race & 24 Hour Challenge <- 24 New Centurions! Official Apology -> here

Well done to all walkers. Big thanks to the Officials, Marshals, lap-counters, food & water assistants, and all helpers. Thanks to the NSC staff, first-aiders and to Manx Harriers for use of their clubhouse.

See news / comments etc.,
& photos ->

<-
Top 3 Finishers in the 100 Mile Race:-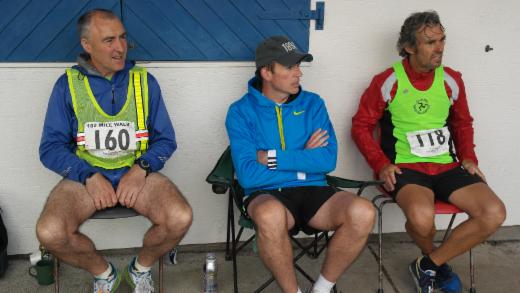 (L to R) Vinny Lynch, 2nd, Richard Gerrard, 1st, and Robbie Callister, 3rd.
Jock Waddington came in 4th.
Sandra Brown finished 1st Lady, and 5th overall, in just under 20hrs:-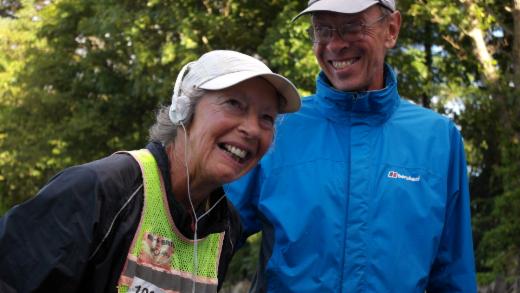 20 Mile 'Starlight Stroll' Winner was Michael George.

Leading group after 10 laps:-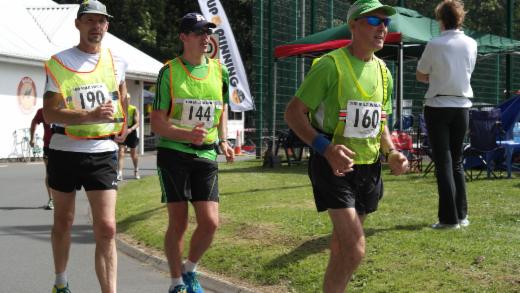 The Isle of Man was the venue for the 2013 RWA National Long Distance Race Walking Championship, combined with a UK Centurions qualifying walk of 100 miles, a 24 hour Walk Challenge and a 20 miles 'Starlight Stroll' on 3rd-4th August in the sheltered surroundings of the National Sports Centre in Douglas. The course is a half-mile lap on a level tarmac road surface - see location map (Starting at 12 noon, Saturday 3rd August 2013. Starlight Stroll at 10pm).
RULES

. Category B. Race Walking Association Permit Number 17/13/18
North of England Athletic Association, Course Accuracy Certificate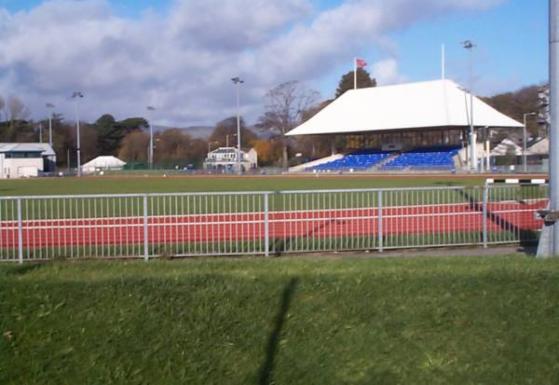 Water stations provided to all athletes during the event. Goodie bags to all entrants included a commemorative 't' shirt. Certificate to all finishers.
Prize presentation, with light buffet, held on Sunday afternoon, 4th August.

This great aerial shot of the NSC was taken by Jon Wornham and is copyrighted but reproduced here with permission. If you would like to see many more great photographs by Jon then please visit his website www.island-images.co.uk
NSC information - please click here and here
Our main sponsor: -

Presentation of the sponsorship cheque by Tower Insurance: -

Pictured left to right: Jock Waddington, Chris Cale, Sean Hands, Graham Young, John Cannell, Kellie Hands, Irene Corlett, Ann Zachorecki and Steve Taylor.
(Photo by Adrian Cowin)